Safety & Service
Reaching New Heights
Joyce Crane's dedication to safety is relentless, from the continuous training and certification of our staff to our well-maintained fleet of cranes and equipment. Our operators are among the best in the business and are compliant with Federal and state standards, along with maintaining multiple crane operation certificates.
When it comes to achieving safety, Joyce Crane has logged millions of hours without any lost-time accidents and has averaged an EMR of 0.72 for over 20 years. Due to our extensive focus on safety, Joyce Crane is able to offer competitive rates, as well as a no-charge, industry-leading $15 million lift coverage package, to protect you and your investment.
With terminals in Longview and Texarkana, TX; Bossier City and West Monroe, LA; and North Little Rock, AR, Joyce Crane has the reach, infrastructure and flexibility to meet your service needs. Our manned and maintained fleet features 40t to 900t cranes with complete logistical support equipment.
Joyce Crane Awarded Texas Mutual Safety Trophy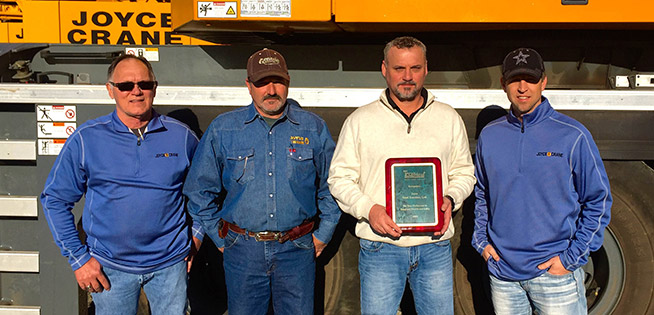 Joyce Crane is pleased to announce that the company has been named a recipient of a 2015 Texas Mutual Safety Trophy for its outstanding safety record and practices.
Austin-based Texas Mutual Insurance Co. is the state's leading provider of workers' compensation insurance. Each year, the company honors an elite number of companies from their 65,000 policyholders that demonstrate a strong commitment to employee safety, makes safety a part of its core values, and of course, has an exemplary safety record.
Learn more about Joyce Crane's Safety Program or check out our Equipment lineup.